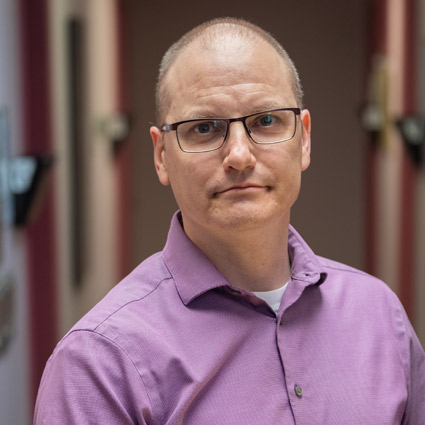 Meet Dr. Adrian Robichaud
Dr. Robichaud became interested in chiropractic as a young boy, when he saw how quickly and efficiently it helped his father, who had been suffering from agonizing back pain. His father's results left a lasting impression. While at University, Dr. Robichaud did a chiropractic internship and loved seeing how happy chiropractic patients were with the results of their care. That's when he knew he wanted to become a chiropractor and help others receive those same benefits. These patient interactions are still his favorite part of being a chiropractor.
Chiropractic Philosophy
Dr. Robichaud believes that chiropractic care is an integral part of an overall healthy lifestyle, along with nutrition, exercise and, when appropriate, medication. He focuses on neuromusculoskeletal issues, which include the extremities as well as the neck and back. Besides treating acute and chronic conditions, we also provide maintenance care — because after we help you get healthy, we want to help you stay healthy.
EXPLORE OUR SERVICES
A Compassionate Expert You Can Trust
Dr. Robichaud holds several certifications, including:
B.S. Human Kinetics, University of Ottawa
Doctor of Chiropractic, Canadian Memorial Chiropractic College
Custom Orthotic Therapy, Advanced Foot Biomechanics & Orthotic Therapy, Gait Analysis and Plaster Casting from The Orthotic Group, Markham, Ontario
Neurolinguistic Practitioner from Unique Perceptions, Orangeville, Ontario
Attuned as an Advanced Reiki Practitioner with Usui Shiki Ryoho
Shodan (first degree black belt) Okinawan Go Ju Ryu Meibukai Karate
Roku dan (sixth degree black belt) Shorin Shin Matsubayashi Ryu Karate
In addition, he is fluent in both English and French, so communicating your needs and goals will never be a problem.
Life in Oshawa
When he's not at work, Dr. Robichaud enjoys spending time with his wife and three kids and taking advantage of local outdoor activities like walking and running. He also practices and teaches karate at a dojo not far from his chiropractic practice. And, like many people, he enjoys some down time with true crime or reality television shows.
Dr. Robichaud's mission is to help people relieve their suffering and regain their health, and he would love to welcome you to the world of chiropractic care. Schedule your appointment today!

Dr. Adrian Robichaud | (905) 571-0821