Auto Injury Treatment at Robichaud Chiropractic & Orthotics
When people are injured in an accident — whether at work or in an automobile accident — they often choose physiotherapy as a first course of treatment. At Robichaud Chiropractic & Orthotics, we know that's usually not the best choice.
Chiropractic Care Addresses the Root of the Problem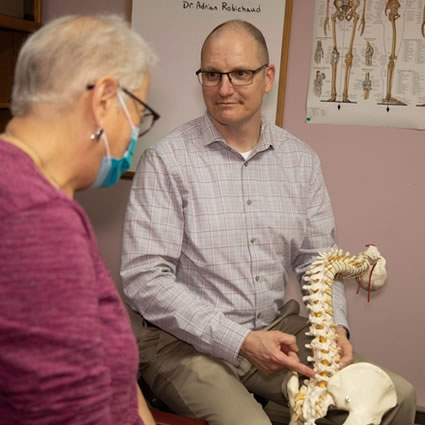 In an accident, the joints of the spine are affected. If you don't treat the joints to get them moving properly, the muscles around them shrink or 'atrophy.' Physio treats the muscles without necessarily addressing the underlying spine problem. On the other hand, chiropractic care treats the joints of the spine to restore their natural motion and, if done soon enough after an accident, can prevent the muscle atrophy from occurring. This is important in preventing secondary problems like a weak neck that can result in chronic pain and the risk of re-injury.
Dr. Robichaud values your time, and he will never waste your time with treatment or exercises you don't need. Therefore, you can trust that if he gives you an exercise to do, you need to do it! His approach is compassionate, no-nonsense and efficient, and recovery from an auto injury typically takes from 2 to 3 months.
Massage On-Site
We also offer massage therapy, which is a very important component in recovering from your injury. We know that after an accident, you have a lot on your mind, so we pride ourselves on the fact that we can take care of all your auto accident needs right here on site.
Acupuncture
As an ideal adjunct to chiropractic care, we use acupuncture when we see health problems that seem caused by disruption to energy pathways in your body called meridians. This centuries-old healing procedure focuses on the integrity of bodily systems, not specific conditions.
Insurance-Approved
We accept most insurance and in the vast majority of cases, we can direct bill your insurance provider so you're not paying out of pocket for the care you need when you need it most.
Restoring Hope and Health
It can be frightening when you're injured in an accident and you don't know when or even if you'll feel better. Dr. Robichaud understands that. His gentle approach and experience offer our patients hope as well as results. We don't want you to suffer needlessly when chiropractic can help you start feeling better immediately!
If you've been in an accident, don't wait! Contact us today to schedule an appointment.
CONTACT US

Auto Injury Treatment in Oshawa ON | (905) 571-0821